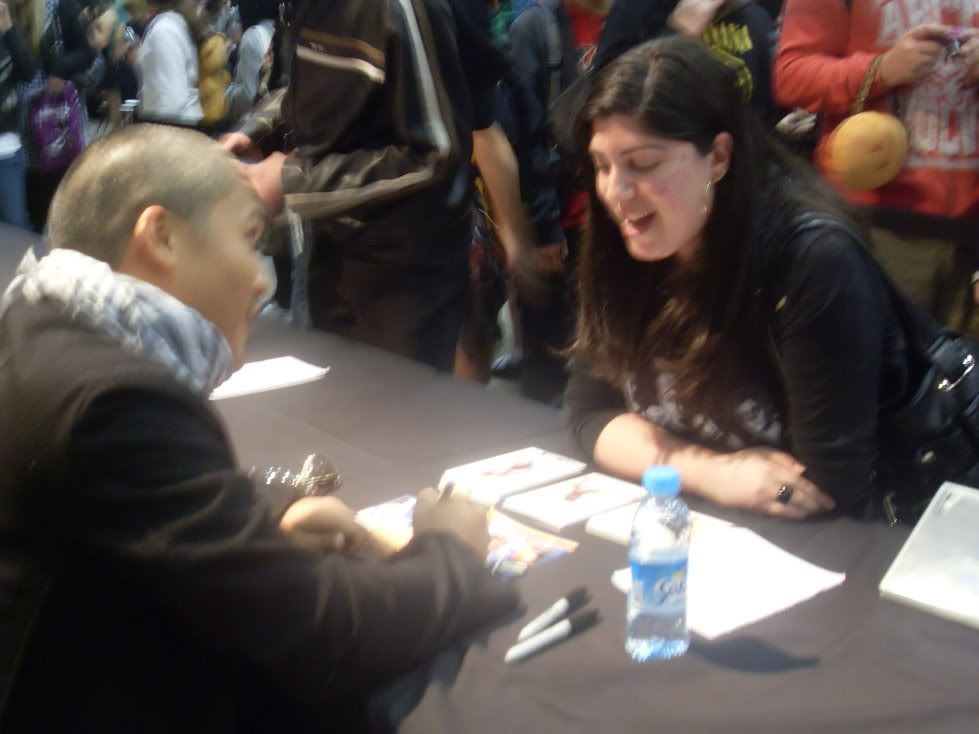 So the awesomeness that was Sunday! With my cousin in tow, we got the Hall for Day 2! Well since I wanted to meet Dante really badly, and I had missed out on Saturday I went straight to the animation guests area and I got in line right near the front. I think I waited a good 40mins as the guests weren't arriving till 10am. Sunday morning was a lot quieter then Saturday and it was a bit of a relief I got to say.
As I was only there to meet Dante, I got to go first hehe. He's actually quite gorgeous in person, I introduced myself to him and h
e did the same. I as
ked him to sign my Hook DVD and I told him how much I loved him in the film and when I was younger I had a huge crush on him
haha he was very flattered, I think he said he might blush haha! Olivia Hack who was another animation guest was so sweet too, she was like going awwwww and giving me compliments on my tshirt as I was chatting to Dante. I told him I had seen Blood and Bone recently and how m
uch I loved the film, and I loved his character Pinball and I thought he nailed it. He told me loved
filming the movie and he really loved that character. He seemed really happy to talk about it, all around it was a great experience. Before I left he asked if I wanted a signed Avatar picture (one item per person, I think he liked me haha) and I said I would lov
e one, so I got two autos from him.
After that I went to the Robot Chicken Panel and I filmed most of it but where I was sitting people kept getting in the way which was annoying. As soon as the Panel was over, I had to run over to the signing area to get a place in line to meet the
guys. Good thing Dan was hanging around the area and we got in just after the Gold/Silver pass people which was really good. The line to meet the guys was insane, I mean they were only there to sign for free for two hours. We wai
ted a good 90mins in line, I think they started late too. But the guys wanted to
talk to the fans and it makes sense why the line was moving slowly. By the time we got there, I think I was really excited, I introduced myself to them and told them how much I dug the sho
w, as you do. They all signed to Marcey on the card which was neat, of course I got to Seth and I was OMG could we quickly snap a photo and he's like yeah sure, grabs the camera and he took our photo hehe. I got to talk to him for a bit and I told him how much I loved the film Airborn
, and he was like Oh yeah that was a fun film and Matthew was like yeah that was good and we all had a laugh. I think Seth was surprised someone had seen that movie. Dan got to meet him and he talked Italian Job and Seth signed as Napster and I added in the Entourage 'Tell Sloan I said what up' I think they giggled, but damn I had to say it! It was well worth the wait, and they were all top guys.
After that it was late lunch with my cousin and catch up time. Chilled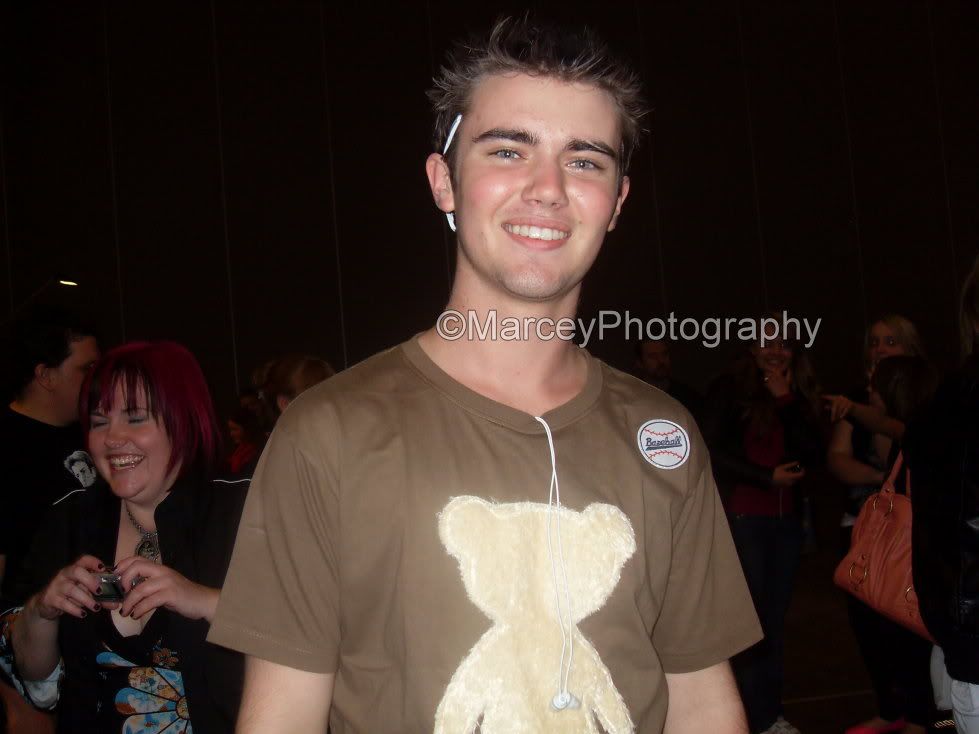 out with some people and talked about the highs of the Expo. We saw Cameron Bright walking around and having fun, a lot of people didn't recognise him. After a while my cousin asked C
ameron if I could get a photo of him, he said he wasn't able to pose with me because of how they set
things up
but I told I just would like a photo of him because I know people who would be madly jealous, which I think he thought was very funny. He posed and I got a great photo and he was a very lovely guy, certain teen stars should take a page out of his book.
I got to talk to Gigi Edgley briefly too, Chianna from Farscape, she was really nice and she looks amazing. Her FHM shoot is worth a look and I told her she looked great on the cover, she was telling me a few stories about it, really nice! I saw Noah Gray Cabey who played Micha on Heroes, I didn't meet him but he seemed to be having a good time. He has grown up in the past few years!
End of the day things were winding down, we caught up with the comic people again for a few hours and had some fun. I got my photo taken with Tom and Colin, with all the autographs I got from them I thought a photo was appropriate haha! Again it was great to catch up with them again, and we had such a good time. Got to speak to Stewart again too, so nice! I know I am probably forgetting all sorts of things, but that was the basics of the con, great time all rou
nd! I didn't meet any nasty people, everyone was so nice and they seemed so happy to be there and meet fans which really just makes the d
ay!