The Armageddon Expo was this past weekend 17th and 18th of October, one of the little conventions we get here in Australia. Last years Armageddon was my first ever convention and I had a fantastic time, they had a great line-up with guests and I met people like Jim Lee, Ernie Hudson and Christy Hemme. But alas, that was last year, here is a brief wrap-up of my experience at this years.

Unlike last year, we went on both days, and I am so glad we did because both days so much happened. After the crazy and unorganised mess that was getting in, it was straight to see the comic artists/writers. I believe we saw Tom Taylor, Colin Wilson and Stewart M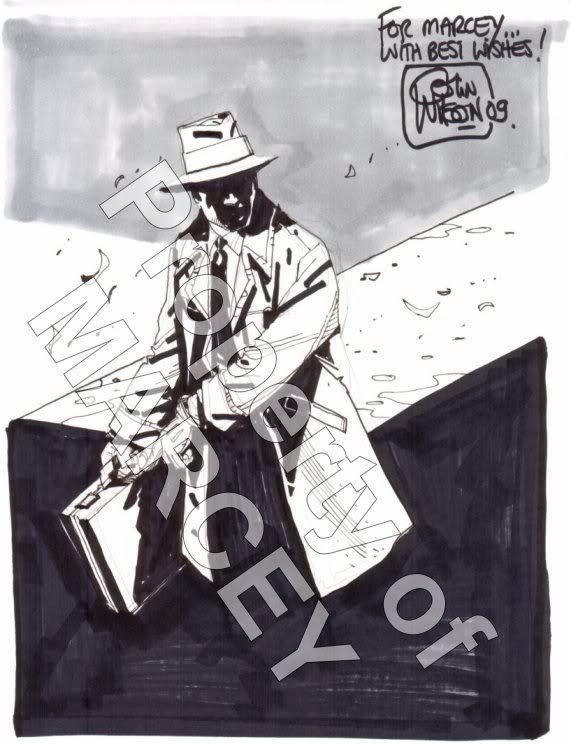 cKenny first up. Always nice to have people remember you, Tom remembered the Marcey and remembered I gave The Example a 5 star review on Amazon, haha I did as he asked at Supanova! Always good to see Tom and Colin and have a chit chat to them, got a Star Wars Invasion poster and comic (signed) and I got my first sketch ever from Colin, I asked for something a bit different and he drew the main character from The Example. Excellent sketch, I am so glad I got it, Colin is unreal! It was really nice to meet Stewart McKenny, and Dan got to have some good talks with him. I ended up buying a nice Wonder Woman print from Stewart, it was hard to pick just one print because his stuff is so great but ah lack of funds meant only one print.

So after that I had a wonder around, and I stood in line for Dan at the other comic area, as he wanted to get a sketch from Nicola Scott who we both spent a lot of time with at Supanova, and again once I got to see her she remembered me. I think Dan was worried all weekend she would be too busy to sketch Batman for him, but hey Sunday afternoon came and he had the sketch. We also met Bill Sienkiewicz, Matthew Clark and Greg Rucka. Dan ended up getting a really fantastic piece of original art from Matthew of Supergirl, colour me jealous! All very nice people, and its great to get the chance to meet them and talk with them and get advice.

I think by this time, I found out there was a Robot Chicken Panel with Seth Green, Matthew Senreich & Tom Root. I grabbed my camera out and I filmed as much as I could, and at this stage I
only have a 5 minute video up, but I am aiming to get everything up on youtube. I was pretty excited to see all those guys, I love Robot Chicken Star Wars and I have been a Seth Green fan for as long as I could remember. I was pretty sure I was not going to get to meet those guys because their only signing (which was free) was for 2 hours on Sunday. More on that later. It was funny to see the dumb questions those guys got asked, when the video is up, this girl actually asked Seth if he is a real werewolf because he played one on Buffy.


After that Panel, I met up with some friends and for a laugh we decided to see the Panel with actor Cameron Bright who was in town promoting Twilight: New Moon. Now you all know how much I LOVE Twilight (Yes I am being sarcastic), so I wanted to see what dumb questions the tweens would ask, and the poor guy was getting marriage proposals and all sorts. At least Felicia asked him a good question about filming Birth with Nicole Kidman and how their scenes caused a lot of controversy and Cameron being all but 16 gave a very good and mature response. He seemed like a really nice guy, and I will mention him again later.

I really wanted to meet Dante Basco, who starred in Hook as Rufio the new leader of the Lost Boys after Peter Pan left. He was also in the film Blood and Bone, which I saw recently and I loved him in, he also did a guest spot on Entourage. He was here as an animation voice guest as he voices Zuko in Avatar: The Last Airbender. But the lines for the animation guests on Saturday were insane, I didn't get to meet Dante on Saturday but Sunday
...

We looked around for a bit and got photos with a Storm Trooper, Jason
Voorhees and the DeLorean. The stalls were alright, some good stuff for sale and on display. Tried to watch some live wrestling but it was awful, sorry to the local talent but, yeah I prefer my WWE and TNA I think.

Went to another Panel with Dan, we saw the comic artists Panel with Nicola,
Matthew and Bill. It was a really good Panel, I filmed the entire thing and Dan asked
the last question. It was interesting to hear what they had to say on different subject matters. Last year I didn't get to see any Panels at all, and I thought this
time I was going to take full advantag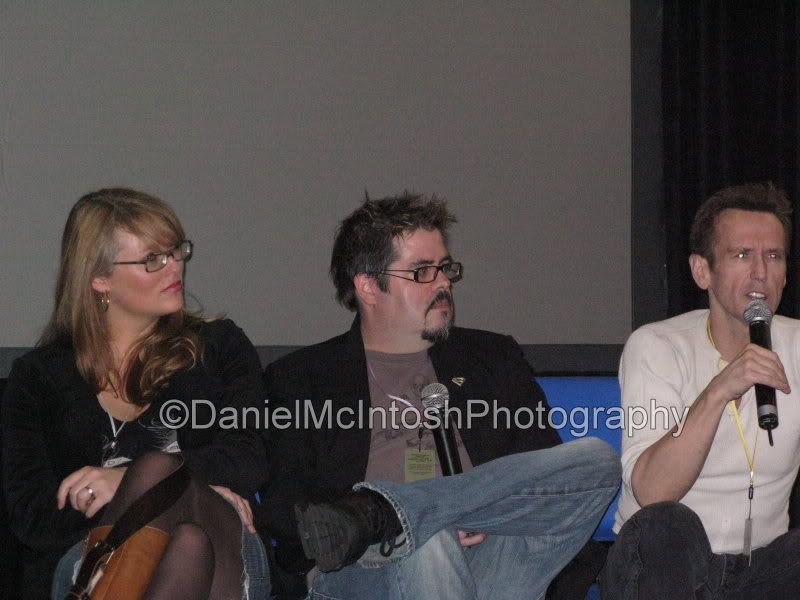 e of it. I was really interested to hear what Bill had to say about Alan Moore, being that I really love his work as well and he's a strange character.

I think we spent the rest of Saturday going up and down and having a rest and catching up with the comic people. It was such a great day, I am struggling to remember what else we did, I tried to check out the celebrity signing area a few times, but it was always busy and when it wasn't the stars were either doing a panel or photo sessions. But for now, lets head on to Sunday ....