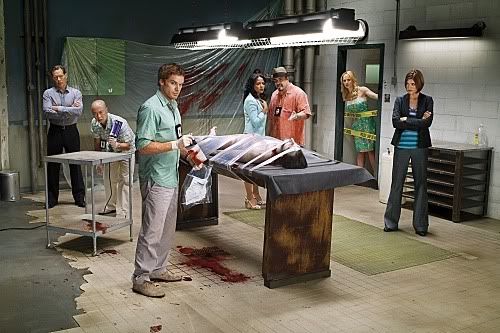 Okay I was really having a think about whether or not I wanted to blog about this because I don't want to give any spoilers for anyone who isn't up to date. So I will try my best to not reveal anything.
I really wanted to briefly write about this currently season because it was simply phenomenal, and in my opinion one of the best shows currently on TV (There are shows I haven't gotten around to watching so obviously there are those who will disagree), but this Season really took the show to a whole new level.
The performances were really top notch this season, Michael C. Hall is without a doubt an excellent actor and this role is tailor made for me (Perfect Casting, Perfect Performance) and he delivers the goods and then some this Season. Jennifer Carpenter has really blown me away this Season, she has really lifted her game and she was fantastic. She has come a long way since the first Season, really proud of her. The stand out comes in the form of John Lithgow as Trinity, this Seasons villain. Now I am used to seeing Lithgow in a comedic role with 3rd Rock From The Sun, I had forgotten just how fantastic he can be as the bad guy (Cliffhanger, Ricochet). He was the perfect choice to play against Dexter and it worked on so many levels.
The story arc's for this Season were really great and interesting and every episode flowed so well. Dexter has grown so much as a character and it really showed this Season. I have no idea if they can out do this Season, but it was easily the best since the first Season, maybe even better.