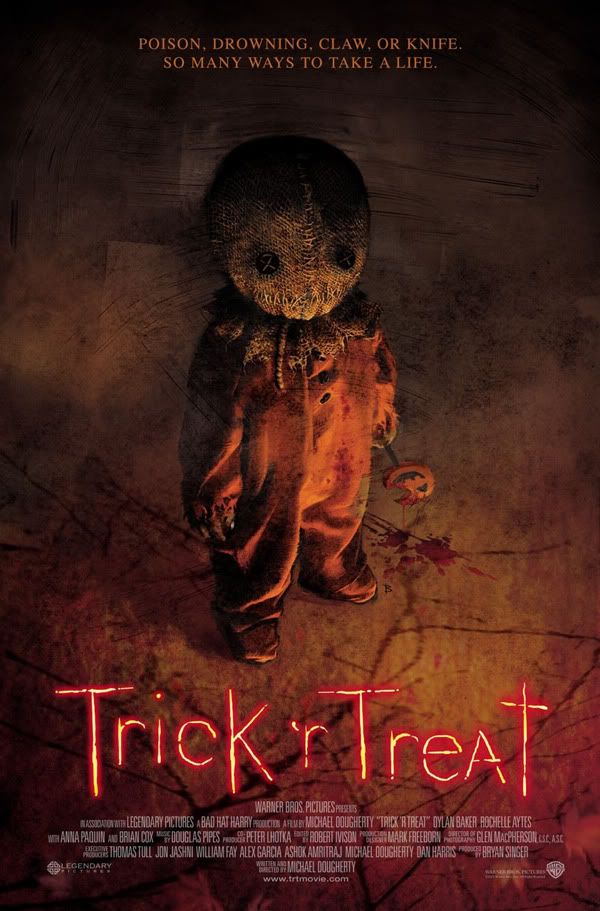 3.5/5

This is a film that has been sitting on the shelf for two years, it was supposed to be released back in 2007 theatrically however the powers that be shelved it. This seems to happen more often then not, and with it's impending DVD release I had heard a lot about it, mostly from the horror community. There is a lot of hype surrounding the film, and I try to ignore that (I have learned my lesson going back to my experience with The Descent) and just go in with no expectations. I hadn't even seen a trailer for this film, I had no idea what it was about only it was an anthology and that it was themed to Halloween.

So what is Trick 'R Treat about exactly? A lot of things, it has the different stories which weave together, however at its core this is a film about Halloween itself. The one day of the year where the ghosts and ghouls come out to play, and boy do they in this film! It takes place in a small town which really loves October 31st, parties and trick or treating are running wild.

What really grabbed me with this film is the look, it looks like Halloween. The sets are fantastic, you really get the feel and the atmosphere of Halloween and with me it really dragged me in. I wanted to jump in and hang out there (despite the horrors), the jack o lanterns in this film were just stunning and star themselves. Gotta give props to everyone involved, they did a great job here. The costumes as well were great, all of them were top notch and just really great to look at.

The stories themselves for me were hit and miss, I really loved one of them involving the kids and I really just didn't get into one which involved Brian Cox. The others were good I thought, and a nice twist with the Anna Paquin one which I will not reveal. The less you know the better it is, as watching this I was surprised all the way through although you can guess where things might be headed. They do all come together really well, and the opening is a good one to get you hooked in.

On the acting side it is all really good, everyone does a great job. I thought Dylan Baker was especially creepy and it was a great role, he did it well. Michael Dougherty got good performances from his actors and his script was really good as well. You can tell he really loves Halloween and he wanted to make something true to that day as well as giving us a great 80's feel to the film.

While this film did have it's flaws, I thought over all they did a good job, there was a lot of heart here. Pacing wise I thought certain scenes could have gone a bit faster, and maybe a few changes here and there but that is personally just how I felt. Without giving out spoilers I felt one thing in particular was really dumb.

I guess if you love horror and you love Halloween this is definitely a film for you.