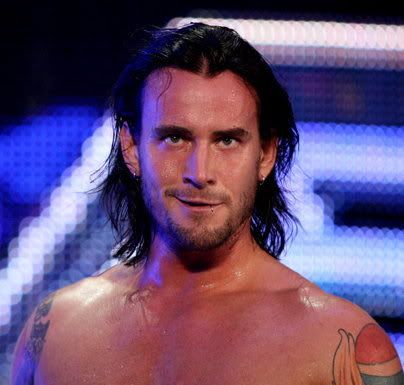 Well as you all know (and if you don't, whats wrong with you?) I love me some wrestling, and I do love to rant about it from time to time.

I've thought Raw hasn't been that good lately, and sometimes I completely zoned out.
However week after week Smackdown has been fantastic, and I don't lose interest at all.


Perhaps this could be because Smackdown seems so fresh, fresh people on the Main Event scene, new feuds which seem to work, decent storylines ect... and since Extreme Rules PPV (Meh not much of a fan of that title) I've been pretty glued to the screen every time CM Punk has been on.
Since Extreme Rules, where he cashed in MITB at the end of the fantastic Jeff Hardy vs Edge ladder match, he's been on the heel path. Now what really set those wheels in motion was cashing it in on Jeff Hardy after he had won the Title and took it from him. With Jeff Hardy easily being the most over person in the WWE, that didn't exactly sit well with the general WWE Universe. Of course me being such a huge Punk fan (I love Jeff too) I was on my feet jumping up and down like crazy, Punk was once again Champion and I was praying for a meaningful Title run.
I think for the most part, the Title run has been meaningful.
Slowly but surely week after week CM Punk was getting so much heat, everyone had turned on him straight away. His character hadn't changed what so ever, but the fact he was up against Jeff Hardy sold the heel turn. I was lapping it up, I loved seeing him get booed, and the promos he gave were unreal. I felt there was actually alot of truth in them and I think Hardy did well enough to stand up to them but Punk clearly out did him at every turn. Everything I thought worked really well, but for me I dunno I cheered even more for him. I've been waiting to see a heel CM Punk for a long time (Check out his heel ROH stuff on youtube) and it was everything I had hoped for.
From the "eye injury" to them being forced to team up, it was all great stuff.
I was busy on Monday so I missed Night of Champions PPV, and when I got home I read that Hardy had the title again. I was pretty pissed off, I didn't want the Punk title reign to end just yet, but I guess it was a good way to further his heel persona and even add John Morrison into the mix. After Hardy and Morrison (I do believe I heard boo's lol) had a fantastic match, it seemed like Punk came out to say congrats ... yeah right! The full blown heel attack happened and I was grinning, BIG! I can't help but still the cheer the guy, even when he is beating the crap outta Jeff Hardy. It was a brutal one, but not as brutal as it could have been. I can't wait to see what happens next.
I love Punk the heel, and I hope it only gets better from here. Although I confess I love heels, and I always seem to cheer the bad guy (or girl).
In closing, it really sucks to be a face, when a face gets attacked either no one helps them or someone does but they get out numbered. Heels have more friends, heels are cool!